German Auto Solutions M54 CCV Replacement Kit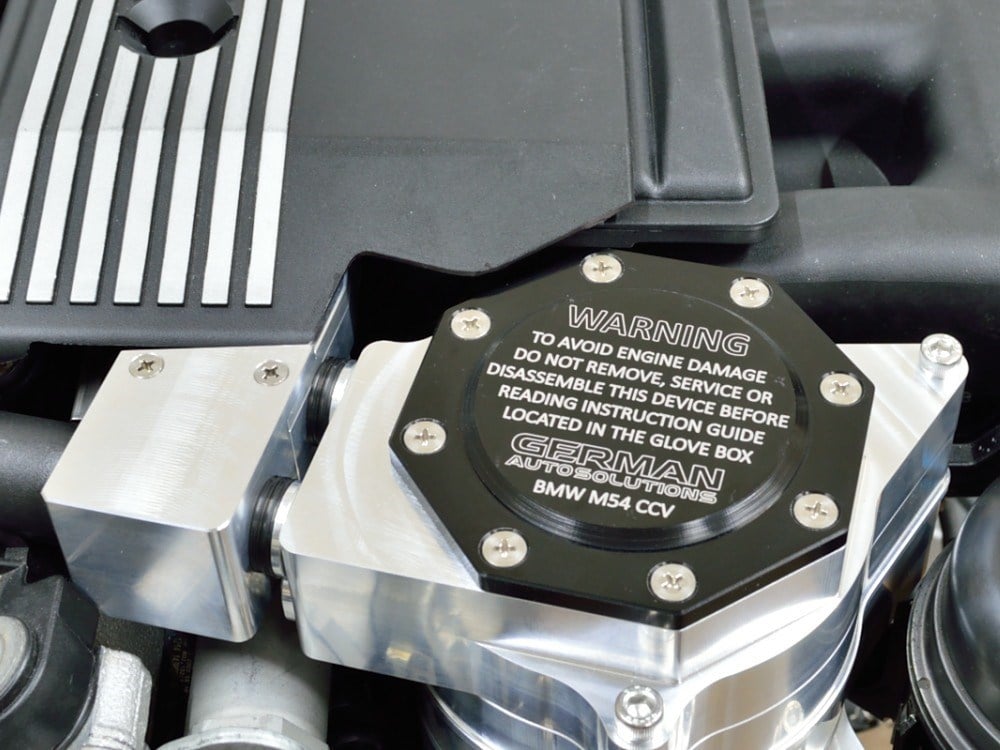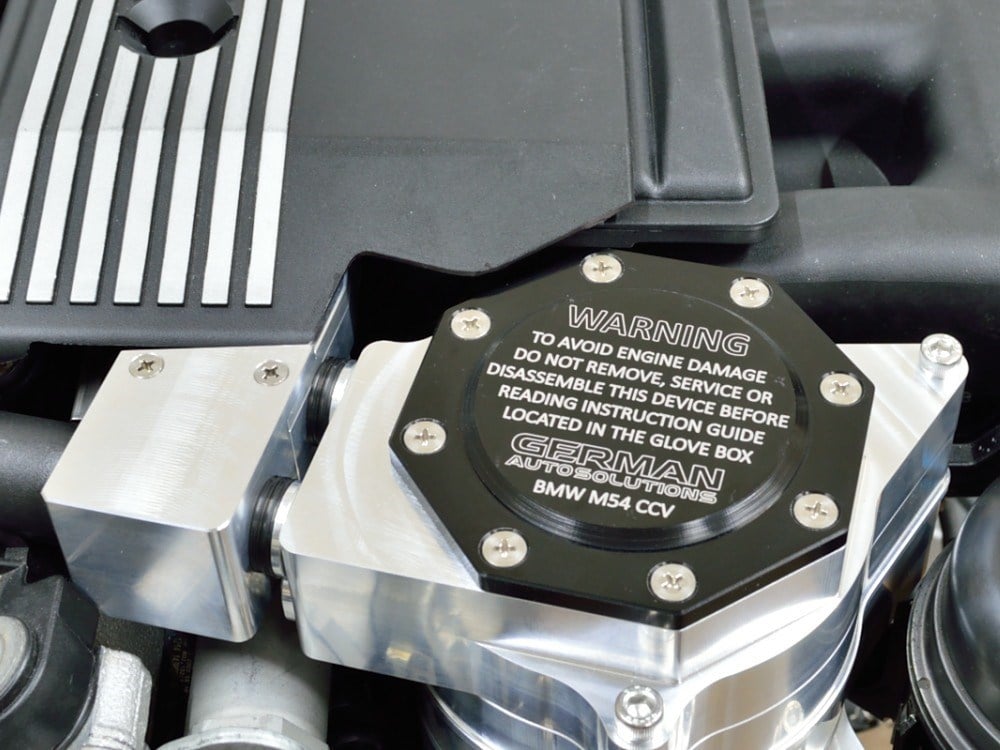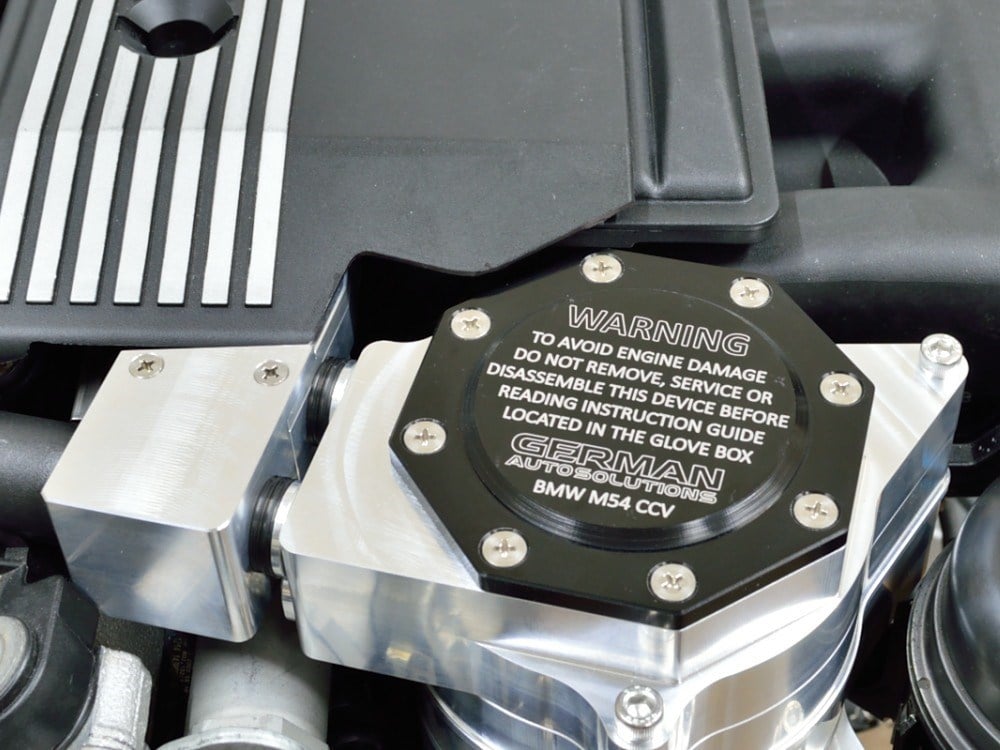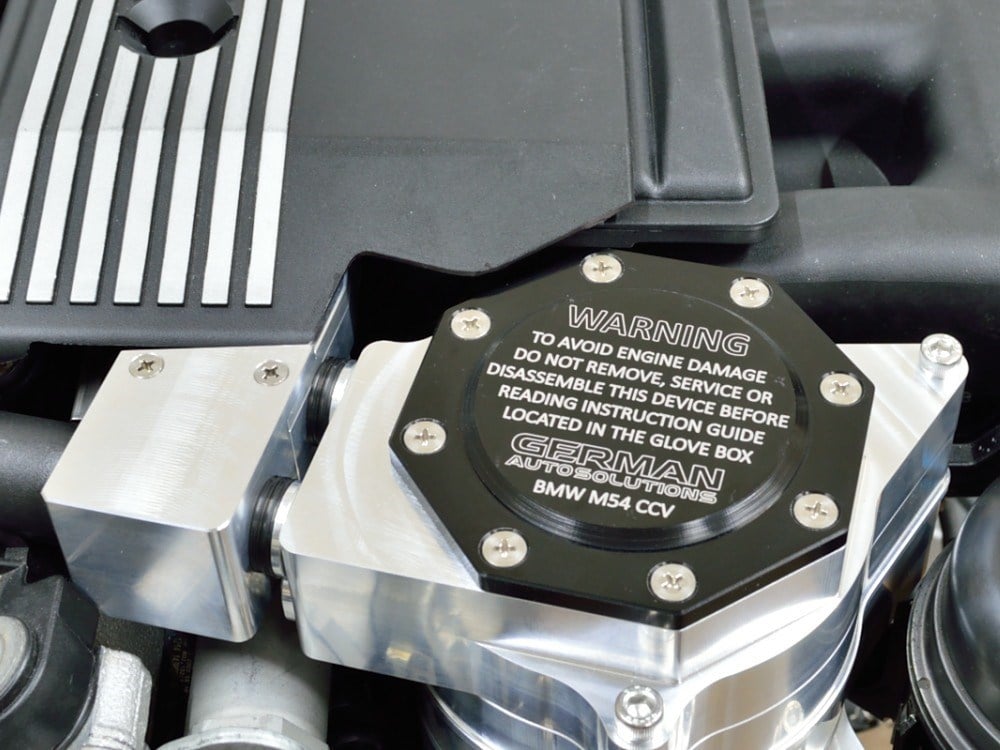 *This product ships "Signature Required". Someone must be available to sign at time of delivery.
Description
Waiting List
Updates
Technical Info
F.A.Q.
Features
Applications
Install Instructions
Customer Reviews (9)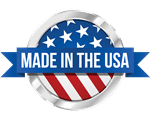 UPDATE - If you have used the provided link to put your name on the CCV waiting list please click the above "Updates" tab for ongoing information about the 3rd production run status. This is much easier than trying to keep 150+ customers updated via email. Thank you for your patience and understanding.
Please verify that our kit fits your BMW by clicking the "Applications" tab.
Below is a short intro to the G.A.S. M54 CCV System Upgrade Kit. We highly suggest you use this link to view much more detailed technical information about the kit.
German Auto Solutions has finished development of a long term replacement solution to the infamous BMW M54 CCV (Crankcase Controlled Ventilation) system. This system is notorious for a variety of failures, the most common of which are oil sludge induced clogging, cold weather freeze up and vacuum regulator failure.
A clogged CCV or a CCV with a failed vacuum regulator can result in increased oil consumption resulting in reduced spark plug, O2 sensor and catalytic convertor life. Excessive oil consumption can also result in reduce power and fuel economy due to retarded ignition timing caused by carbon deposit induced pre-ignition. Failure of the CCV vacuum regulator could result in oil being sucked up from the oil pan into the intake manifold resulting in increased oil consumption or even hydro-lock, a condition that can easily destroy an engine.
The stock CCV unit is located underneath the intake manifold and is very difficult to access for replacement. Replacing the CCV can be an entire day job and cost up to $320.00 depending on how much of the system you replace. The worst thing about replacing the stock CCV unit with another OEM unit, is that you will probably need to replace it again several more times during the life of your BMW. We have heard of BMW owners replacing their CCV as many as three times in three years.
The problem is a combination of the OEM design coupled with the location and non-serviceability of the CCV unit. As your BMW gets older it generates more blow by gasses which carry more oil through the CCV system. The oil that separates out of the blow by gasses in the CCV unit, tend to thicken into a thick gooey sludge (especially in cold weather) that clogs up the oil return path to, and through the dip stick tube and back to the oil pan. Once the system clogs, it's no longer able to remove oil from the blowby gases and keep the engine crankcase at the required constant vacuum level.
The German Auto Solutions CCV system mounts on top of the stock oil filter housing and replaces the factory oil filter cap. Since the oil separator sits directly on top of the oil filter and is bathed in engine oil, the entire CCV unit runs at engine temperature which will eliminate any of the freezing failures of the factory BMW unit. The G.A.S. CCV also eliminates all the failure prone factory plastic hoses with an aluminum manifold and replaces the factory rubber oil drain back hose with a higher quality hose that should last the life of the vehicle.
The G.A.S. CCV is easily cleaned and serviced during regular oil changes. Since it's cleaned and inspected at every oil change it will never clog, and it only adds a couple of minutes to your oil change time
Like all German Auto Solutions products this CCV replacement system is 100% designed and manufactured by us  here in the USA.
Related BMW Part Numbers
11617533400
9 Reviews for German Auto Solutions M54 CCV Replacement Kit
Incredible Machine Work – 2003 BMW 330i - Thursday, November 12, 2020

The kit arrived today and all I can say is WOW! Being a former CNC programmer / operator, I can appreciate the beautiful machine work done on this masterpiece. I love the fact that you took the time to program the de-burring process on every edge and corner, very nice.
This also makes installation much safer, thank you.


Very Easy to Install - 2004 E83 X3 3.0 - Thursday, April 30, 2020

My only frustration is that I missed the first production run, before my stock unit failed again. I am looking forward to putting one in the other car. Thanks for the attention you put into this.

A Must-Have. 2002 BMW 530i - Sunday, December 29, 2019

How many times have you busted your knuckles trying to get to that defective CCV unit under your intake manifold? Or trying to route the fragile CCV plastic hoses into place?

Well, kiss all of that goodbye. G.A.S. has finally delivered on a CCV upgrade for all M54 engines. Not only does this kit make CCV maintenance easy, but it also better regulates oil consumption and vacuum within the crank case. I was amazed at how drastic the change was. Used to consume 1 quart of oil every 1000 miles or so. Going on 3000 miles now with NO consumption!

Yes, the price is steep. But if you want to never again worry about what might happen when you drive your car on a cold winter morning, or if you want to do everything you can to manage oil consumption, $500 really is a small price to pay.

Excellent work, BMW e46 M54B22 - Sunday, December 15, 2019

Greetings from Germany, this GAS CCV is awesome, never regret it.
No Oil Consumption at all, and the Intake is now Clean from Oil, just great!!

Excellent replacement, I was the first tester of the kit! - Monday, December 9, 2019

I live near GAS and drive an E46, so my car was the guinea pig for this replacement and the first install. Happy to say that 30k miles and 2.5 years later it's still working flawlessly. Highly recommended.

Love my GAS CCV - 2004 BMW 330ci - Monday, December 2, 2019

Just letting you guys know I have finally installed my GAS CCV valve! You guys have manufactured a excellent unit that functions amazingly, after three weeks of driving the car has never been more fun to drive! Throttle feels crisp and gas mileage has gone up! I will keep up on my experiences with this product, I also have the 1.2 bar cap and have had it on for about two years now with no symptoms, keep up the good work, I want to just keep driving this car now!

Happy Customer!! - 2001 330xi E46 - Monday, September 2, 2019

Thanks so much for your product!! I received it this week and got it installed right away! It's amazing! Looks top notch and now my engine is "sucking" like a champ.

Thanks again for all your hard work to make this thing. Awesome!!

The CCV has been great! - Monday, July 15, 2019

Last year was the first full winter with it and I've had no issues at all. Even had the car parked outside overnight occasionally in -15 to -20 c temperatures. Oil changes are easy and consumption is essentially nil.

Beautiful peice of workmanship - Sunday, July 14, 2019

Beautifully made kit. Good and detailed install instructions. Piece of mind that I no longer have to worry about the stock CCV ticking time bomb. Highly recommend.
Submitting Your Review, Please Wait
Your Review Has Been Submitted Successfully
Add a review for German Auto Solutions M54 CCV Replacement Kit
You must include a title, rating, and message in your review.
Please Enter a Short Title + Vehicle Model and Year
Your Rating
Enter Your Review Here - Please include your name or order I.D. for purchase verification only - Name or order ID will not appear in review