***** A Quick Word About Inflation ***** 
The current inflation situation has hit everyone hard, and it's the same for small businesses. In the past year our raw material costs have increased 25-75%, hardware and accessories increased 10-25%, rent expense 20% and labor cost 25%. To date, we have not raised our prices on any of the products that we make. We know that many of our customers are struggling with the rising cost of living so we will continue to do whatever we can to hold our current pricing for as long as we can. We thank you for your support.
German Auto Solutions is your one stop source for unique repair parts and performance accessories.
You will find  products here that are not available elsewhere. We specialize in carefully engineered solutions to many of the common reliability problems that plague the BMW and Porsche communities. In addition to our repair solutions and performance accessories, we also offer a complete range of performance services.
Our staff here at German Auto Solutions has extension combined experience in mechanical design, electronic design, performance engine development, advanced composites and Dyno tuning.
Gary Geukes
Gary is the founder and principle owner of
German Auto Solutions LLC.

Gary has background in electronic systems design and repair, mechanical systems design and repair, high performance engine development, machine tool programming and dyno tuning.
Ed Hoffius
Ed has extensive experience as a quality engineer in the automotive industry.

Ed has over 25 years of experience in part and fixture inspection, reverse engineering, capabilities studies and design troubleshooting.
Bob Steen
Bob is the quintessential "Jack of all Trades". There is nothing that happens in a machine shop or auto shop that Bob doesn't have extensive knowledge and experience in.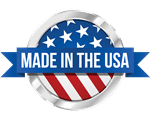 Every repair and performance part that you find here under the German Auto Solutions name is 100% designed and manufactured by us here in the United States. 
By manufacturing our own products and then selling directly to the end user we can offer extremely high quality products at close to Asian import prices.
When you purchase U.S. made products your money stays here in the U.S. and goes to employ american workers.  The United States has been losing it's manufacturing base for decades and that hurts all Americans going forward. Please consider "Buying American" whenever you can!