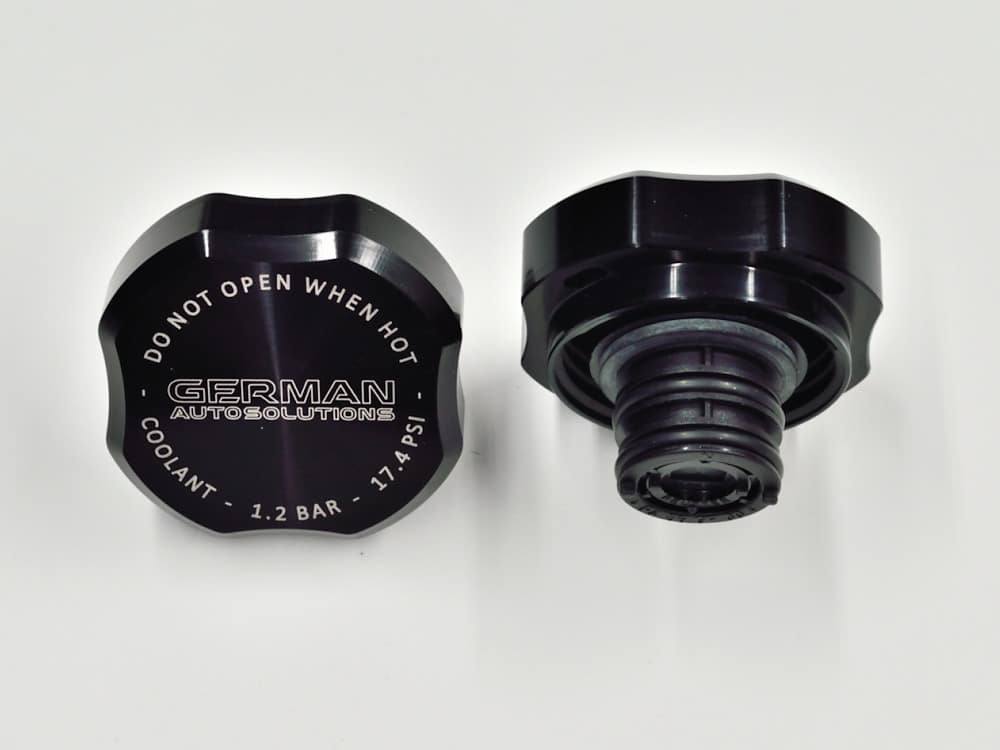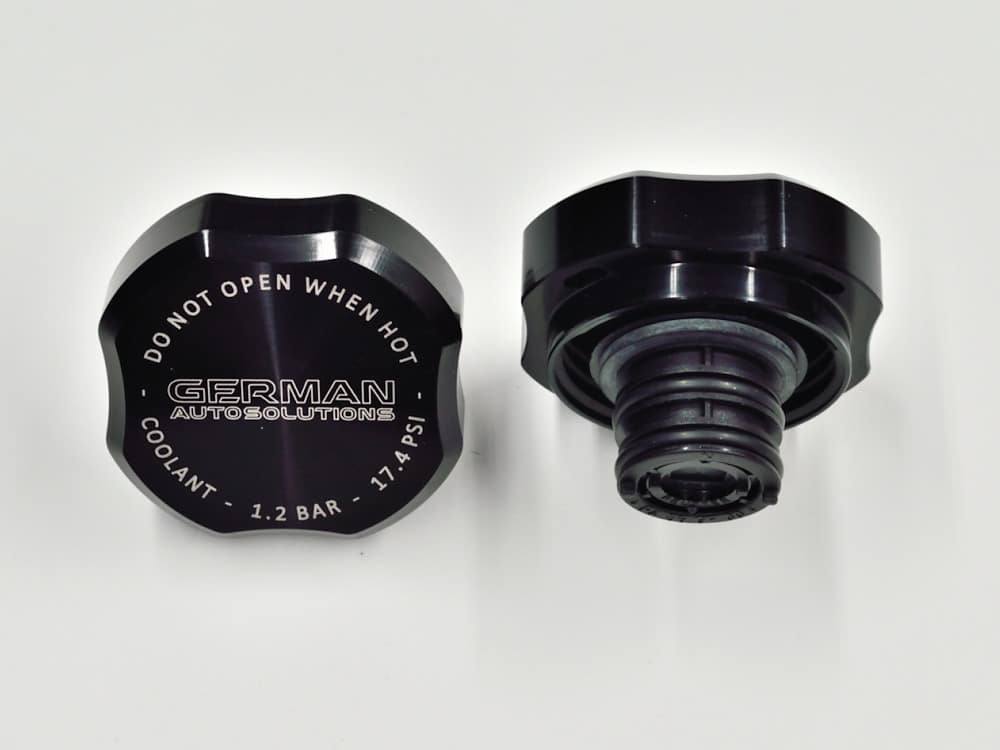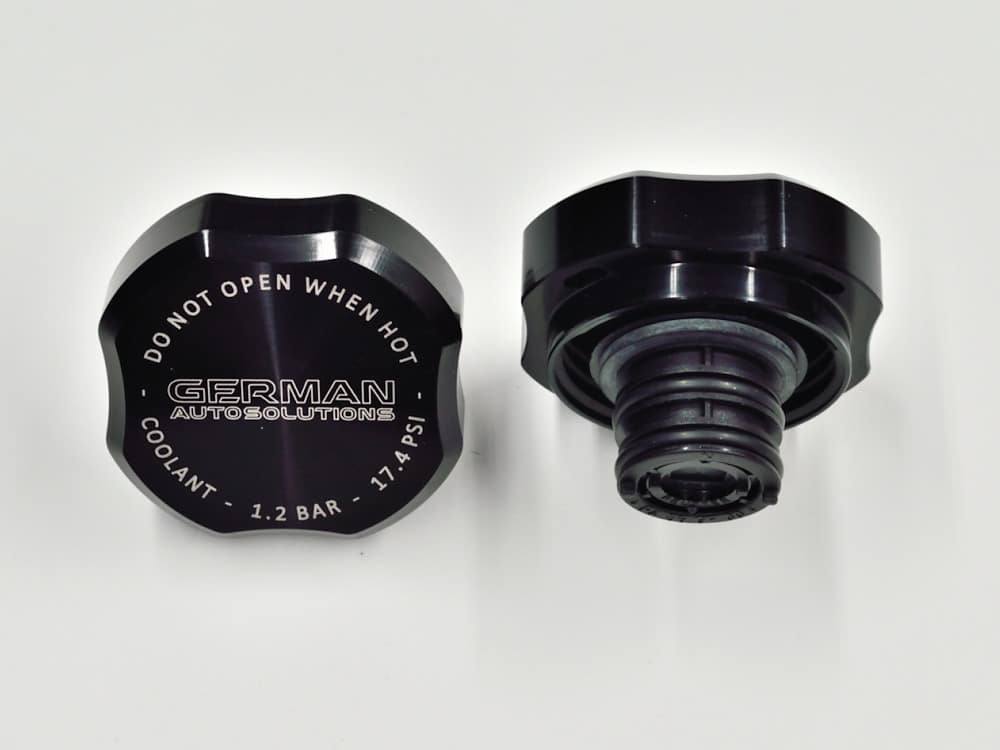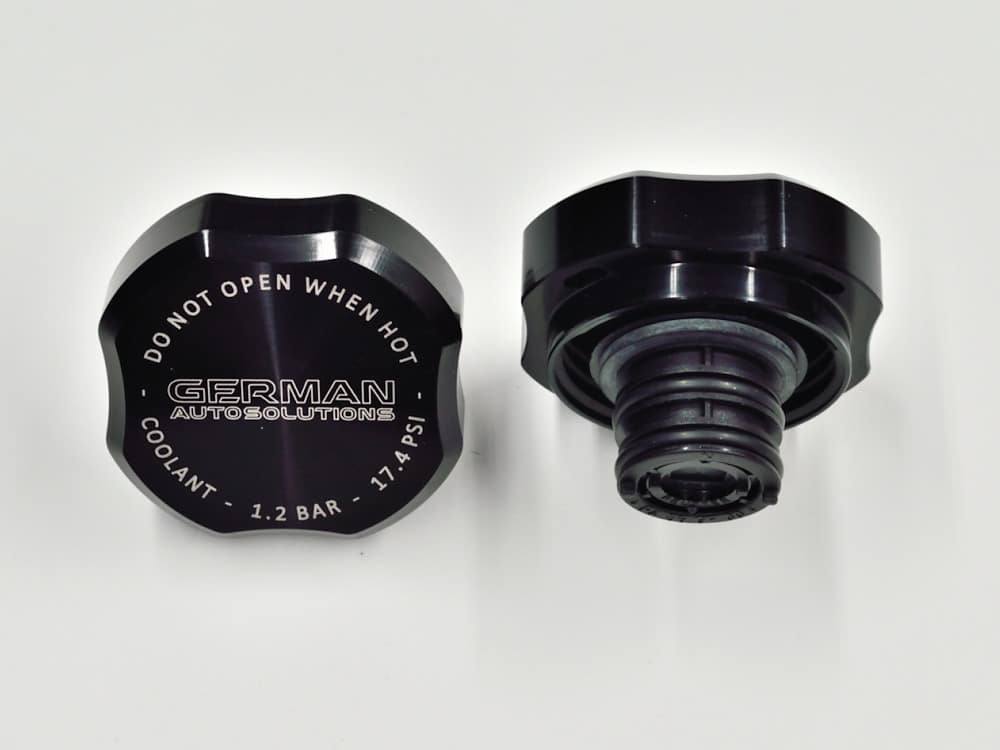 A one-time price of
$39.95
will be added to your order.
Categories:
BMW Cooling System Products
,
All BMW Products
,
BMW 3 Series - E30
,
BMW 8 Series - E31
,
BMW 7 Series - E32
,
BMW 5 Series - E34
,
BMW 3 Series - E36
,
BMW 7 Series - E38
,
BMW 5 Series - E39
,
BMW 3 Series - E46
,
BMW Z8 Series - E52
,
BMW X5 Series - E53
,
BMW 7 Series - E65, E66
,
BMW X3 Series - E83
,
BMW Z4 Series - E85
,
BMW Z4 Series - E86
,
BMW 7 Series - F01, F02, F03, F04
,
BMW F06
,
BMW 5 Series - F07, F10
,
BMW F13
,
BMW RR1
,
BMW RR2
,
BMW RR3
,
BMW Engine Products
Description
Fits these bmw models
Logo Option Explained
Features
Customer Reviews (9)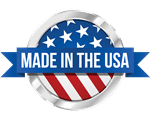 Please use the "Applications" tab to verify that our cap fits your BMW.
Catastrophic cooling system failures are a fairly common problem on BMW vehicles. The problem is related to the cooling system maximum relief pressure that BMW has chosen to run, coupled with an almost entirely plastic set of cooling system components.
Most BMW vehicles manufactured between 1982 and 2006 run a cooling system vent pressure of 2.0 bar (29 psi). The problem is that the cooling system components are barely rated to handle that pressure when brand new. As the plastic parts heat cycle hundreds of times while exposed to the degrading effects of heat and coolant, they lose some of their strength. The result can be a ruptured part somewhere in the cooling system.
As you can see from the picture gallery, ruptures can occur in the radiator tanks, expansion tank, thermostat housing and coolant hoses. Not only can a failure leave you stranded somewhere that you would rather not be stranded, but these engines are very prone to cylinder head warping and cracking when severely over heated. The number one cause of very expensive cylinder head failures is severe over heating during a cooling system failure.
So what is the solution? The system does not need to vent at that high of a pressure. In fact the industry standard for cooling system vent pressure is 1.0 to 1.4 bar. After doing extensive research and beta testing on several BMW engines, we decided on an optimum pressure of 1.2 bar. This pressure is high enough to maintain OEM pressure specifications up to 126 degrees Celsius  (260F), which means that our cap will not alter your  cooling system efficiency in any way. Apparently even BMW has seen the light, since most current BMW models now come equipped with a 1.2 bar cap.
This German Auto Solutions cap will limit the maximum internal coolant pressure to 1.2 bar (17.5 psi) instead of the OEM spec of 2.0 bar (29 psi). Even something as simple as overfilling the coolant recovery tank a little higher than the recommended level will result in potentially damaging pressures when using the stock 2.0 bar cap.
We want to be very clear... cooling system components can fail due to cracking even at normal operating temperatures and pressures. Our cap will not guarantee you will never experience a cooling system component failure, but it will drastically reduce the chances of catastrophic ruptures.
The German Auto Solutions 1.2 bar Cooling System Cap uses 100% original BMW internal components that have been recalibrated to vent at 1.2 bar. This top of the line coolant cap is CNC machined from 6061 aluminum alloy, color anodized to prevent corrosion and enhance beauty, then laser etched with the caps specification and the German Auto Solutions name. This cap is not just an inexpensive solution to a potentially very inconvenient and very expensive failure, but is a very nice dress up item as well. The pictures shown on the left really do not do these caps justice, they truly are beautiful to look at. German Auto Solutions will soon be offering matching billet oil filler, power steering filler and oil filter caps for those who would like a complete set of high quality engine bay dress-up items.
If your BMW is more than 5 years old it's a good idea to replace the cooling system cap as part of a regular cooling system maintenance routine. Why take a chance with your expensive BMW cooling system by using the OEM 2.0 bar cap. Get your German Auto Solutions 1.2 bar replacement cap today.
The German Auto Solutions 1.2 bar Coolant Cap has been on the market now for over five years with thousands of caps sold worldwide. We have caps in Texas, Arizona, the Middle East and many other extremely hot climates, and to date, we are not aware of a single  rupture of a cooling system using our cap.
The German Auto Solutions 1.2 bar coolant cap fits many BMW models manufactured from 1982 to present. Use the application list tab above to verify fitment for your vehicle.
Related BMW Part Numbers
17110152374
17111742231
17117639022
9 Reviews for GAS 1.2 Bar Coolant Cap
2004 BMW 330i ZHP - Wednesday, November 8, 2023

This expansion tank cap saved my coolant system during some spirited driving this past summer. A coolant system rebuild was on the docket anyway, but while I was running (probably) original plumbing, this cap gave my vehicle the extra cushion between a bad day and a tragedy. Great work from GAS, as usual.

M54B30 swapped 99' E46 323i - Wednesday, October 4, 2023

After replacing my upper and lower radiator hoses with silicone, my radiator with aluminum, and my water pump with Stewart, the GAS 1.2 bar radiator expansion tank cap is a "chef's kiss" to my build and a piece of mind during spirited drives. A+

1999 540i BMW 6spd manual - Friday, September 22, 2023

I recently purchased the GAS 1.2 Bar Coolant Cap and I love it. The design is cool and the weight of it shows the high quality of it as well. I had done a cooling system overhaul earlier this year. So this is a great addition to the job.


2004 bmw 325ci - Thursday, September 21, 2023

Nice quality fast shipping!

Great replacement cap (2004 e46 330ci) - Thursday, June 22, 2023

Very well made cap, had a nice weight to it and a must have. Doing a cooling system overhaul and this was recommended on a online forum, couldn't be more satisfied, super nice finish

I see why there's an option. - Sunday, December 27, 2020

The GERMAN AUTO SOLUTIONS logo doesn't line up, it faces almost completely the wrong direction. This is obviously why there's an option to purchase the cap without the logo. I wish I had known that. Other than that it seems to work fine.

G.A.S. Response - Thank you for your feedback. We have sold thousands of these without complaints about the logo but you do bring up a valid point. The cap fits dozens of different BMW and aftermarket coolant tanks and the logo only indexes properly on some of them. I will add an "Options Description" tab on the product page to explain this to hopefully prevent any disappointment about indexing in the future.

Works great! 2005 m54 x5 - Wednesday, August 5, 2020

Installed on my 2005 x5 a few years back and zero issues. Ordering one for the 540 right now!

Heavily but tastefully modded & still N/A 540i 02 - Tuesday, June 9, 2020

I've been running this cap for some time now and I'm very pleased! After I addressed my aux fan (over looked after so long of it not being an issue) it was smooth sailing. This is from someone who believes in few red lines a day (my daily, still, for now). Can't beat that look in the bay either! Haven't seen a better cap around & I sure ain't looking.
Amani Willis

Great looking Cap - Sunday, July 14, 2019

Really beautiful cap and very well made. Added piece of mind that I'm protecting my cooling system from failure.
Submitting Your Review, Please Wait
Your Review Has Been Submitted Successfully
Add a review for GAS 1.2 Bar Coolant Cap
You must include a title, rating, and message in your review.
Please Enter a Short Title + Vehicle Model and Year
Your Rating
Enter Your Review Here - Please include your name or order I.D. for purchase verification only - Name or order ID will not appear in review